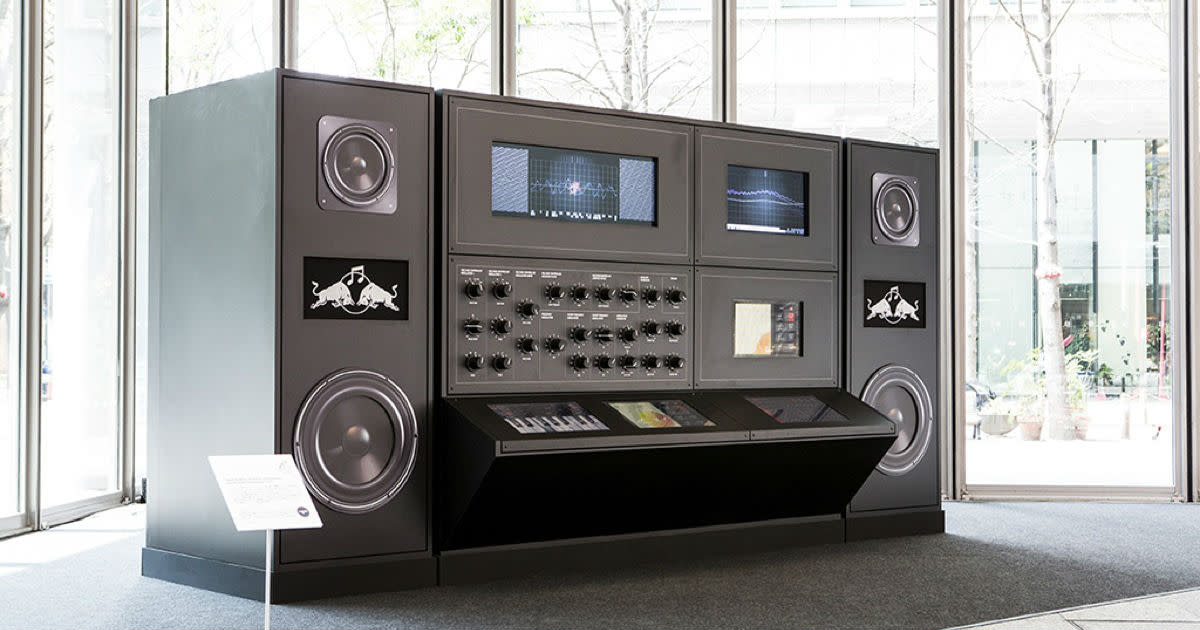 HUMAN SIZED SYNTHESIZER
Client: RBMA x Rhizomatiks
Release: November 01, 2014
The human sized synthesizer is a giant synth that was produced in collaboration between Daito Manabe of Rhizomatiks and Red Bull Music Academy*. The synthesizer is equipped with four sound steps, and contains step sequencer drum machine, a keyboard, an arpeggiator, and an X-Y effector. The large sized controller section is built based on a KORG classic synthesizer MS10/20, and comes equipped with an MPC-like touch sensitive trigger pad.
Undeterred by the unprecedented scale and abstract yet solid presence, the unit attracted the attention of passersby young and old who wanted to try operating the system for themselves. In addition to allowing the ready creation of music by playing with the tone and rhythm, the system provides an unparalleled intuitive first hand understanding of the mechanisms underpinning synthesizer technology. Although only initially planned for a two day installation at the Red Bull Music Academy Tokyo in November 2014, by popular demand, the unit was again showed to the public for three days in April 2015.
*The Red Bull Music Academy is a worldwide organization that supports young and talented artists.
Credit
Client : Red Bull Music Academy
Technical Direction/Programmer : Daito Manabe(Rhizomatiks)
Producer : Seiichi Saito (Rhizomatiks)
Product/Interface Design : Keitaro Shimizu (Rhizomatiks)
Project Manager : Ikumi Hirata, Ayako Watanabe (Rhizomatiks)
Music : Setsuya Kurotaki (Rhizomatiks)
Hardware engineer : Tatsuya Motoki (Rhizomatiks)
Production/Construction: Zeal
Event Produce : Lounge inc
Performer : DJ Uppercut(GROUNDRIDDIM), Himuro Yoshiteru, Setsuya Kurotaki (Rhizomatiks)
Video Production : TOKYO / GROUNDRIDDIM
Videographer : Muryo Honma (Rhizomatiks)
Programmer:Satoshi Horii (Rhizomatiks)