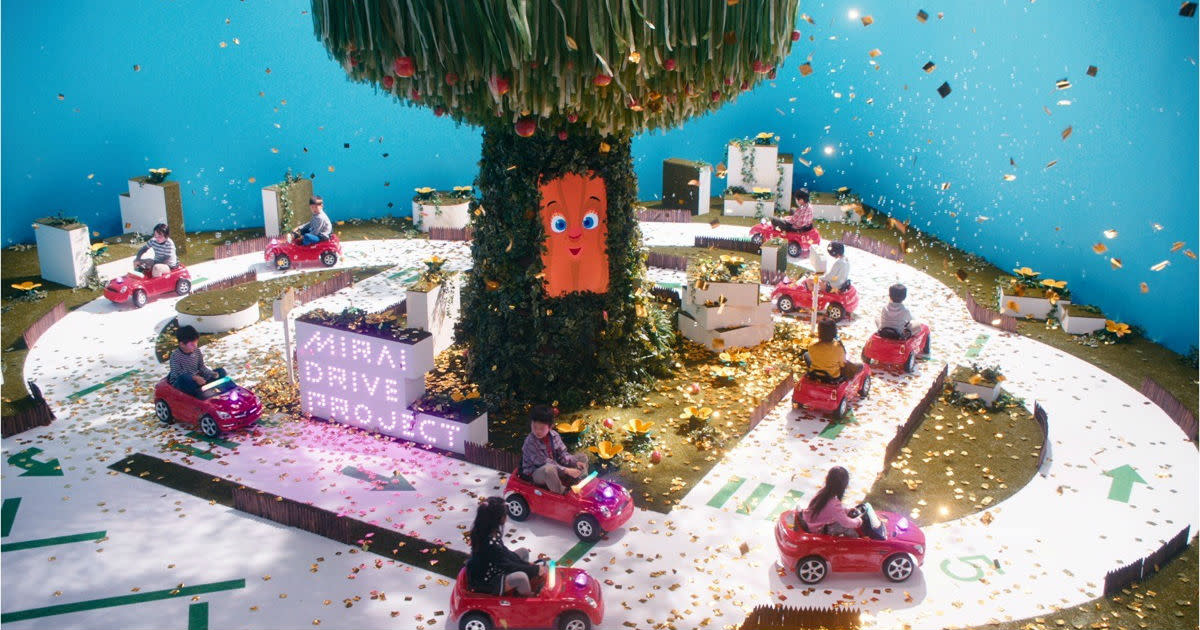 MIRAI DRIVE PROJECT
Client: AXA DIRECT
Release: January 01, 2016
In order to cultivate a "future driver", one who enjoys driving based on compossion and kindness, we held a workshop on safe driving for children, and released the video footage of the workshop on the site. The pop styled animations are a characteristic of the site interaction, putting an emphasis to familiarize children with cars.

Unification of world view
Rhizomatiks Design created the logo and original font, with a overall theme to express safe driving.

In-site interaction
In order to pull away from the hardened image of typical car insurance and CR activities, the site utilizes logo motion and animations of cars driving safely scattered in the site to present a more comical expression that could be enjoyed more by children.

Rhizomatiks provided the creative direction and production of the Mirai Drive Project, introducing a new kind of telematics insurance that utilizes driving data.
In order to develop telematics insurance, you need to have driving data for a large sampling of drivers. The Mirai Drive Project was inaugurated as an elegant customer-participation solution to "provide a visualization of safe driving and create future safe driving standards." Rhizomatiks create a concept movie utilizing a proprietary system.
Credit
Client:AXA Direct Japan

Agency:Rhizomatiks Co., Ltd.
Film Production:EPOCH Inc.

<ALL PROJECT>
Creative Director / Planner / Producer: Keisuke Arikuni(Rhizomatiks)
Copy Writer: Yoshiyuki Takeda(POOL)

<FILM>
Director: Wataru Saito(EPOCH)
Producer: Kazuya Arai(EPOCH)
Technical Director: Kanta Horio, Tatsuya Motogi (Rhizomatiks)
Technical Support: Tomoaki Yanagisawa(Rhizomatiks)Ryota Okiyama(TASKO)
On-site Support: Ichiro Mishima(Rhizomatiks)
Art / device engineer: Masataka Kimura (TASKO)Masaki Sato(TASKO)Kohei Kudo(TASKO)
Production Manager: Kenta Okutani(EPOCH)
PR Producer: Masayuki Osawa(Boostar)
Cinematographer: Akiyoshi Yoshida(s.p.e.c) Yusuke Takahashi
Steadicam: Taro Kimura(Copain)
Lighting Director: Ryu Matsumura
Workshop: Akifumi Kumai(CANVAS) Yu Dobashi(CANVAS)
Workshop Film Director: Akira Tanaka
Sound Effects: Setsuya Kurotaki(Rhizomatiks)
Colorist:Max Golomidov(DIGITAL GARDEN)
Offline Editor: Norihiro Iwama(IEMOTO)
Online Editor: Tatsuhiro Noguchi(IEMOTO)
Mixer: Takuya Yamashita(STEP)
Sound Producer: Shinosuke Takizawa
Music:capeson

<WEB>
Art Director: Hiroyasu Kmura(Rhizomatiks)
Designer: Kaori Fujii(Rhizomatiks)
Front−end Programmer: Kentaro Mito(armsnox)
Logo motion: Hitoshi Morita(TYMOTE)
Writer: Tomoko Takashima
Photographer: Akiko Ikeda(YUKAI), Yuka Ikenoya(YUKAI)